We offer following payment provider
CCBill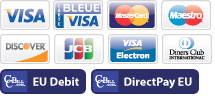 CCBill was created to serve the needs of consumers looking for a fast, safe and convenient way to purchase access to online venues.
CCBill has been a trusted E-Merchant since 1998, processing millions of online transactions each year and earning its reputation as a leader in the industry.
NetDebit

Credit card and electronic debit procedure
With a one-time permission the amount to be paid is automatically debited from your account or credit card. Of course the charge will appear on your account statement as anonymous.
Direct ebanking
Direct ebanking is a type of direct bank transfer. You have to transfer the amount payable from your account via online banking by yourself.
All you need is your account number, bank code, PIN and transaction number.
Data protection? Of course!
No matter which offer you plan on using: You are only a NetDebit® customer.
You will thus remain anonymous to the service provider.
NetDebit® only stores and processes your personal data for accounting purposes and will certainly not forward this information to third parties!
Paying at NetDebit® is simple and secure – regardless of which form of payment you would like to use…